EMEA News Q4 2020
EMEA NORWAY - Opening of Specialist Care Services for Seriously Ill ME Patients
News from EMEA Norway - Opening of Special Care Service for Severely Ill ME Patients
In Norway there is a great need for a specialised care service for ME patients, a place where they are taken care of and treated by professionals with specialist expertise in ME.
It is not uncommon for very severe ME patients and their relatives to have to fight hard to receive dignified and functional treatment.
EMEA Norway - Norges ME Forening (NMEF)- has announced that during the spring of 2021, such a care and nursing service will be opened at Røysumtunet in the Gran municipality.
"We have long been looking for a place where the sickest ME patients could get proper treatment. Through the dialogue with Røysumtunet over time, we were gradually convinced that this could be what we were looking for", says chairman of the board of the Norges ME Forening, Bjørn Getz Wold.
The general manager at Røysumtunet, Erik Nordengen, says that for some time they have looked for an opportunity to expand the activity and business. The timing of the talks with the Norges ME Forening were fortuitous.
"The offer that is now in place will fit very well into our profile", says Nordengen.
The official opening date has not yet been fully determined. The ambition is spring 2020, and then there will be a total of 12 places set aside for ME patients.
Røysumtunet is located just outside Jaren in the Gran municipality in the Inland, in a beautiful cultural landscape just under an hour and a half from Oslo. The organisation offers various services within rehabilitation, housing and assistance and mental health, and has, for example, a close collaboration with the Special Hospital for Epilepsy and the Norwegian Epilepsy Association.
While Røysumtunet itself will be responsible for, amongst other things, operations, personnel and the content of the upcoming offer, Norges ME Forening will be an active contributor to both the design and content. NMEF will also contribute with skills development and training of the staff group along the way.
Norges ME Forening has had several visits to Røysumtunet. On Friday 12 December, five members of the association met, among them Professor Ola Didrik Saugstad from the association's medical professional council, to sign the final agreement.
"Røysumtunet has gradually become a large organisation I have followed this collaboration since the beginning, and been involved in discussions. It is great to finally get an agreement in place", says chairman Jakob Ruud.
"We have seen that the service for ME patients is deficient today, and we want to contribute. Central to us in the design of this is input from users and relatives, says Nordengen.
From Norges ME Forening's side, Secretary General Olav Osland, adviser Mette Schøyen and Professor Ola Saugstad have been key driving forces in working out the agreement. Osland and Schøyen also participated in the signing, via video call.
Until the opening date, there are now only practical tasks left about the design. A total of 12 places will be available for ME patients, although all 12 will probably not be earmarked for long-term stays, for example.
Otherwise, the service will be offered to the country's municipalities and districts in Oslo. It will be the GP who sends the application for residence after clarification with the patient's home municipality / district.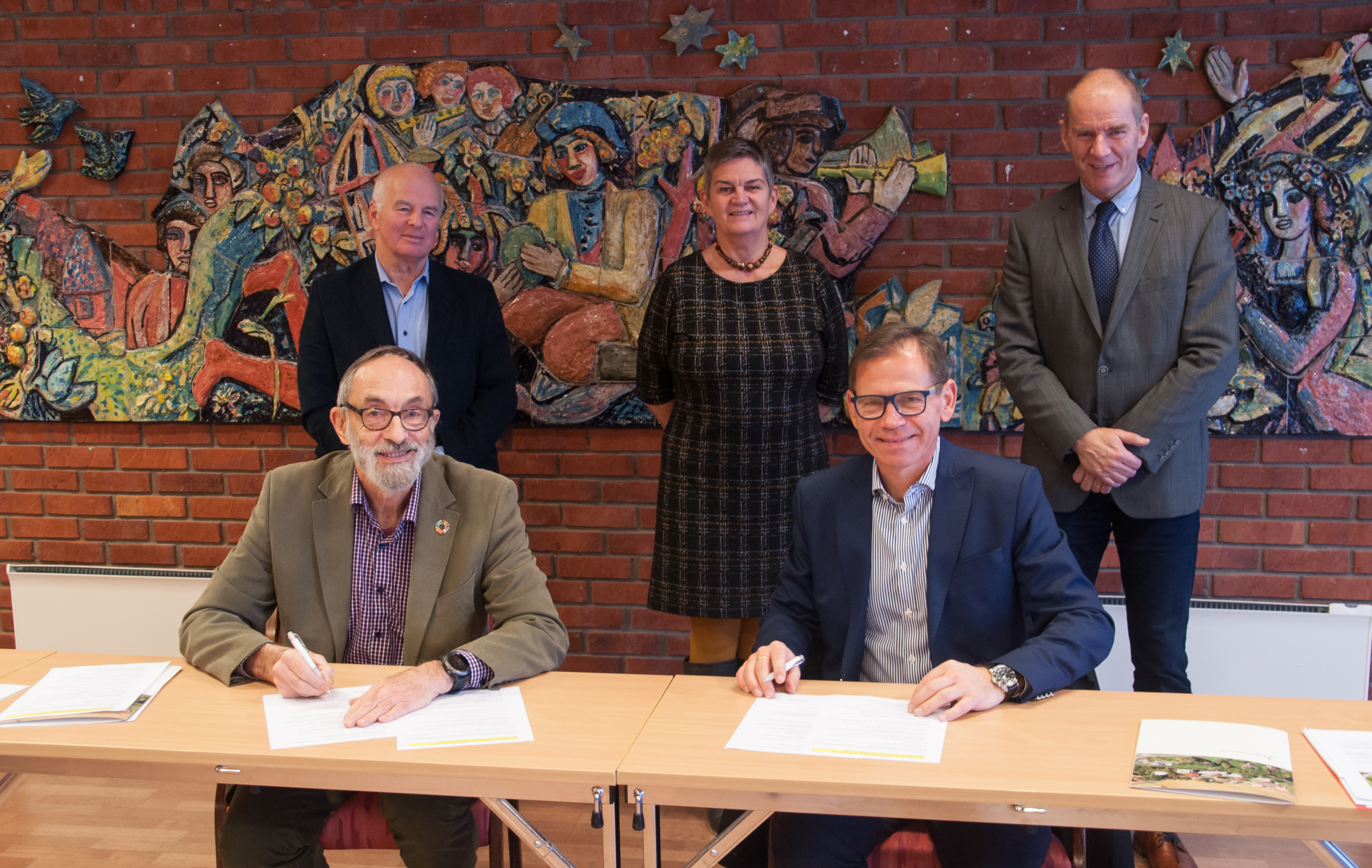 Ola Didrik Saugstad is a professor, pediatrician and a member of Norges ME Forening's medical professional council (and also of the European ME Research Group (EMERG). He has been central, especially at the beginning of the process, in finding a suitable place for institutional places for the seriously ill with ME.
"I have traveled a great deal to patients and relatives over the years, and have seen the enormous need for institutional places for seriously ME patients. They are housebound, often cared for by relatives, and in some cases they have not been in contact with the health service for several years", says Saugstad.
"Many have contacted me and asked about this. I have great trust in this development", he says.
In addition to offering care to ME patients, both parties believe that Røysumtunet could, in the future, be a place to carry out research projects towards the patient group.
"There is nothing concrete here yet. But we have faith in Røysumtunet as a place where one can conduct medical research, for example to test various forms of symptom treatment, under controlled conditions. In the long run Røysumtunet can become a competence institution for ME", says Saugstad.
"But an opportunity to conduct research will also be an important contribution, and not just nationally but potentially beyond national borders. If long-term Covid-19 causes an increase in the number of ME patients in Norway, the need for these places will also increase", he says.

Last Update: December 2020